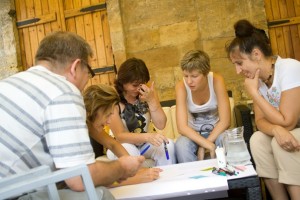 In 2008 CCM has initiated and coordinated a project "Elaboration of a participative cultural framework for the city of Lviv" supported by the European Cultural Foundation.
It was the first ever cultural mapping process in the post-Soviet countries done on the city level, which later on in 2012-2013 was replicated to other 7 cities in Ukraine (Lutsk, Odesa, Mykolayiv, Kherson, Dnipropetrovsk, Luhansk and Melitopol).
The goal for the mapping project was to engage the residents of Lviv in a community exercise that would define the current conditions of the city, cite outstanding issues, and create a preliminary framework for future cultural policy development. In the process, opportunities for partnership and networking were identified, potential for integral programs and projects was explored, new approaches for cultural management were suggested and an action plan was identified.
Cultural map of Lviv was published in 2009 and featured then in several international publications, e.g. the "Cultures and Globalization: Cities, Cultural Policy and Governance" (Sage Publications), the UNESCO publication "Mapping Cultural Diversity – Good Practices from Around the Globe".
From March 2012 till February 2013 Centre for Cultural Management has provided support and coaching to 7 other cities in Ukraine for their cultural mapping processes. CCM has presented the experience that was elaborated in Lviv and was in charge of the introductory workshop on cultural mapping and then 3 more capacity building workshops in support of the process. It established the contacts with the local members of Ukrainian Culture Network to do cultural mapping in their cities and have provided methodological support and coaching to local institutions who coordinated cultural mapping activities in those cities within the Ukrainian Cultural Network project.