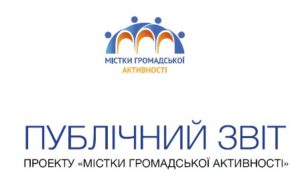 The Report presents the results of the Project activities' final evaluation, conducted by Iryna Skorbun, an external advisor.
The main purpose of the evaluation is to examine whether the major outcomes have been achieved in compliance with those planned and determined under the Project logical framework, find out how sustainable they are, and whether they have led to any change in the life of participants, organizations and communities.
Particular attention has been paid to the determination of the most successful practices deserving further dissemination, and to new prospective areas of work to enhance the integration and cohesiveness of residents, as well as to the development of active citizenship initiatives in small towns of Ukraine.