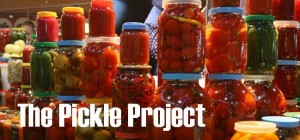 On 23 October 2011 the Centre for Cultural Management will host the Pickle Project, led by Linda Norris and Sarah Crow. The Pickle Project is an ongoing effort to document and share traditional foodways in communities large and small throughout Ukraine as a way of understanding issues of sustainability, change and community.
What does our food say about us? How are cultural values and personal histories encoded in cuisine? What does it mean to be sustainable? Can a meal tell a story? And, finally, what IS the key to a crisp, crunchy pickle?
This project explores these questions and more! And offers YOU the unique opportunity to support the preservation of traditions and cultivate cross-cultural understanding while cracking some culinary conundrums with insights from a country that has been doing sustainable, local food for centuries!
The Pickle Project explores contemporary and traditional Ukrainian foodways, introducing fascinating people, practices and places, through photographic documentation, audio interviews and video. This work will be featured on the Pickle Project blog and will serve as the basis for innovative traveling exhibitions and programs in North America and in Ukraine that will encourage community conversations about the interesting and increasingly relevant issues of food, culture and sustainability.
Visit The Pickle Project blog to learn more Ukrainian foodways, read intriguing stories and try tasty recipes: http://pickleproject.blogspot.com.