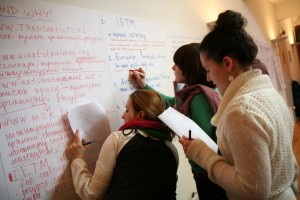 The project was initiated and realised with the intent to establish a community transformation and capacity development network for culture in Ukraine, which engages civil society multipliers in a self-sufficient improvement of local cultural infrastructure, participation in cultural policymaking and professionalization of cultural managers in the pilot cities.
Goals:
Establish exemplary practice for cultural development in the city of Lviv by improving strategic management capacities of the emerging cultural managers from local NGOs and public institutions.
Encourage 6 more culturally vibrant city communities across Ukraine to engage in similar culture infrastructure transformation by establishing a self-sufficient NGO network of art/community development hubs. – Trigger cultural transformation processes in Lviv + 6 more cities by realising innovative artistic pilot action combined with building local capacity for long-term cultural development.
Promote participation in cultural policymaking by positioning new NGO network hubs as skilled change advocates for cultural policy reform.
The project was the framework of many activities, and here is the list of some:
September 10 – June 2012: capacity building workshops.
April 2011 – May 2012:  development of Alternative Art Guides in 7 Ukrainian cities.
September 2011 –February 2013: hosting of 24 cultural managers from Belarus in L'viv, organisation of 3-day workshop for them followed then by match making site visits to local institutions.
June 2012 – February 2013: design and realisation of the community based residencies for 14 cultural managers from Ukraine, Belarus, Latvia, Hungary and USA who have participated in the programme.
March 2012 – February 2013:  cultural planning and organization development focused on the introduction of a new framework for engaging local communities in a cultural mapping exercises that define the conditions and the status quo of a cultural life and policy making in 7 Ukrainian cities, as well as identify outstanding local potential and pressing issues and thereby create a strategic framework proposing measures for future cultural policy development.
Results:
Increasingly professional, strengthened and noticeably more active NGOs/institutions of 20 trained managers become a leading force of cultural development processes in Lviv, which positions the city as a model for 6 more pilot cities across Ukraine – Members of the Ukrainian Cultural network are positioned as viable centres of culture community action/expertise and successfully networked/cooperating under the leadership of CCM.
15 cultural managers from Lviv + 12 more from other Ukrainian cities have successfully accomplished the full cycle of capacity building workshops. – Project participants from 7 cities (Lviv, Kyiv, Odesa, Kherson, Ivano-Frankivsk, Kharkiv) have engaged local community to contribute to the artistic transformations in their cities. Alternative Art Guides have been developed and published, boosting local cultural community to develop narratives about their cities and to discuss traditional vs. alternative characteristics of local cultural scenes.
Project participants from another 7 cities (Kherson, Mykolaiv, Odesa, Dnipropetrovsk, Luhansk, Melitopols, Lutsk) started long-term community development and transformation process in their cities by conducting the process of cultural mapping which resulted in 7 community processes and 7 analytical publications.
Participating cultural communities in 7 project cities are increasingly recognized as credible partners for policymakers and start shaping public discourse and reform processes for local, national and European cultural policy agendas